Knorrs Canada is offering a free promotional kitchen timer for every 4 Knorr sidekicks bought as part of their new promotional campaign.
Shaped like the Knorrs character "Eggy" featured in commercials, this promotion plays upon the fact that Knorrs cooks in 7 minutes.  Customers would therefore be able to use the timer to cook their favorite pack of Knorrs to perfection.
A timed promotion, customers can claim this egg timer by entering 4 required unique product code into their redemption website. However, customers are required to pay an additional CA$8.95 to have the timer delivered to their doorstep. A suggestion to mitigate this is for Knorrs to make use of redemption centers to help distribute the item instead.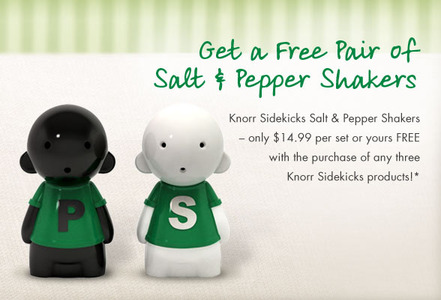 In terms of Marketing, this follows a similar promotion that done by Knorrs previously with salt and pepper shakers of Knorrs characters "salty and peppery".  As customers continue using these promotional products, the characters will remind customers of Knorrs. This improves marketing and advertising as a result.
For other related blog entries, check out: